Most of the time, planning a wedding is a daunting process, a lot of things can set you back, and discourage you – but your wedding venue should not be one of your stresses on your wedding list. In this article, we have compiled a list of wedding venues in Asia! This will accommodate the number of guests you have, compliment you're theme and style.
All these venues have a bridal suite, where you can prepare yourself on the day, completely accessible with parking, an onsite manager and powerhouse for your DJ and sound system-especially if you are planning to host your event outdoors. We all know that plan B is a necessity when planning big events such as wedding events; so bear in mind, no power failure or weather condition will stand in your way to fulfil your big day. All these locations listed below, are covered with all the plans from plan A-Z.
---
INDONESIA
Apurva Kempinski Bali
Built on a cliff, overlooking the Indian Ocean, the resort provides a breath-taking view of the world. The grand staircase sweeps dramatically upwards in a seemingly never-ending fashion. It is pure theatre: a spectacular backdrop to the most remarkable events. The stunning skyline and lavish gardens paint the background make the resort is destined to become 'the stage' for spectacular weddings.
The Apurva Kempinski Bali and its partners have come together to inspire and seek ways of addressing the important topic of sustainability with another breakthrough at the resort, this time in the form of a Sustainable Wedding Package. To promote the activation of this movement, similar-minded key partners are invited. They are Designmill Co., SukkhaCitta, Puri Ata, Taga Woodcraft, Plaga Farm, Tanamera Coffee and Balian Water. They believe that by introducing new initiatives, they can inspire people to incorporate sustainability into all aspects of their daily lives. This becomes even greater when partners come together, generating new ways of thinking, and making a difference.
---
Karma Kandara
White sandy beaches, award-winning cliff top spa and dining venues plus 1, 2, 3, 4 and 5 bedroom luxury pool villas – Karma Kandara offers an incredible location for your dreamy destination wedding. The property itself was selected by a Feng Shui expert for its powers of good fortune – a truly auspicious and spiritual place to celebrate the start of your life journey together.
From cocktails at the Temple Lounge to BBQs at luxury pool villas, long tables at the cliff top di Mare to exchanging pre-nuptials at Karma's private beach, there are several 'wow' outdoor and semi-outdoor wedding venue settings within the grounds of the exclusive resort to your special ceremony.
Exchange your vows on their main pool with a clear acrylic stage to make you look like walking on the water for your "I do" moment with the Indian Ocean and sunset view – the package will be up to 30 people. This venue will be suitable for the couple who required a chic wedding yet with a Balinese ambience by surrounding with frangipani trees.
Plan Your Paradise Day – Karma Group's Wedding Planner will co-create your perfect 'paradise' stay for you and your guests.
karmagroup.com/find-destination/karma-resorts/karma-kandara/
---
The Kayon Jungle Resort
Located in Ubud, The Kayon Jungle Resort offers a breath-taking wedding venue above the valley of the jungle. This unique wedding chapel is perfect for couples who want to exchange their vows in an intimate, nature-surrounded chapel. With nothing else but nature in the background, this wedding chapel is one of a kind for nature lovers. The Puspaka Sky Wedding Chapel is made of bamboo trees and complemented by flowers, creating a magnificent scene to bring people together.
The Kayon Jungle Resort offers different wedding concepts for couples to personalize their dream wedding. Experience luxury, intimacy, and nature when saying "yes" in front of your friends and family. The venue has a capacity of sixty guests and couples can choose to have their reception, dinner, and entertainment in the Kepitu Restaurant. For the bride and groom, there is a special candlelight dinner they can enjoy in the chapel to celebrate their first evening as husband and wife.
When you combine the concept of being close to nature, you will create intimate and romantic moments that you will remember for the rest of your life. By presenting a modern wedding concept or having a touch of local Balinese wisdom, The Kayon Jungle Resort offers the best location, service, and unforgettable moments.
---
Hutan Kota by Plataran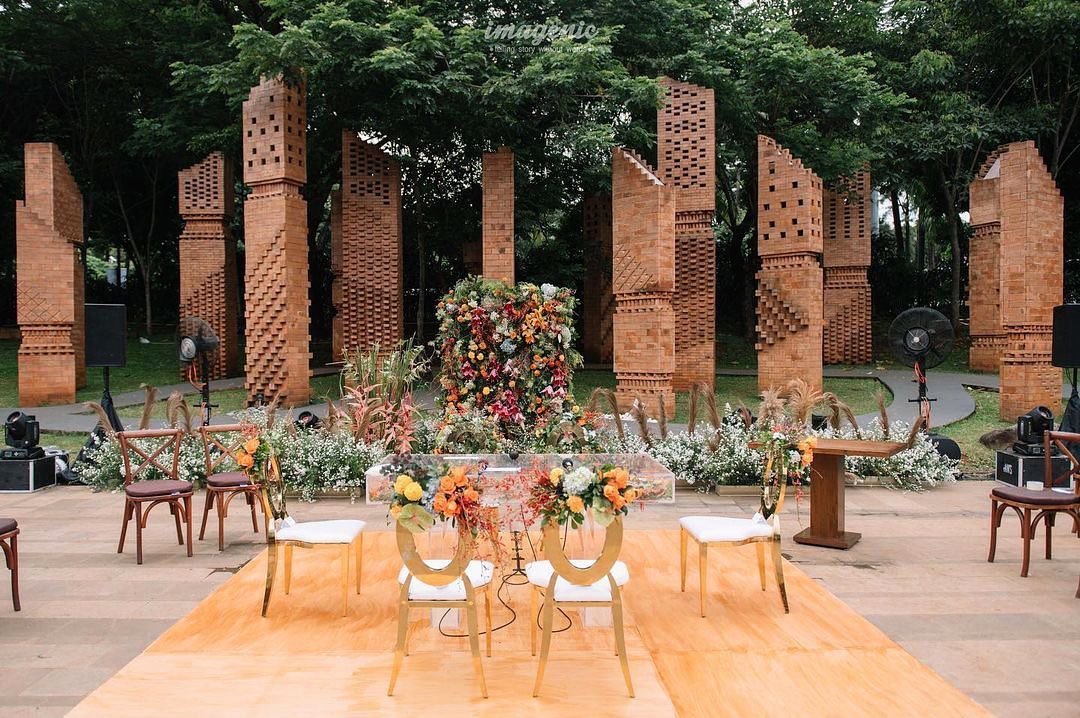 Hutan Kota by Plataran is a hit location in the Senayan area. This place is very spacious with a broad green garden concept and is complete with a restaurant, bar, hangout spot, and sports facilities. With a spacious, green, and beautiful place, even couples who want to get married can rent this place as an option for an outdoor Jakarta wedding venue.
---
Azila Villa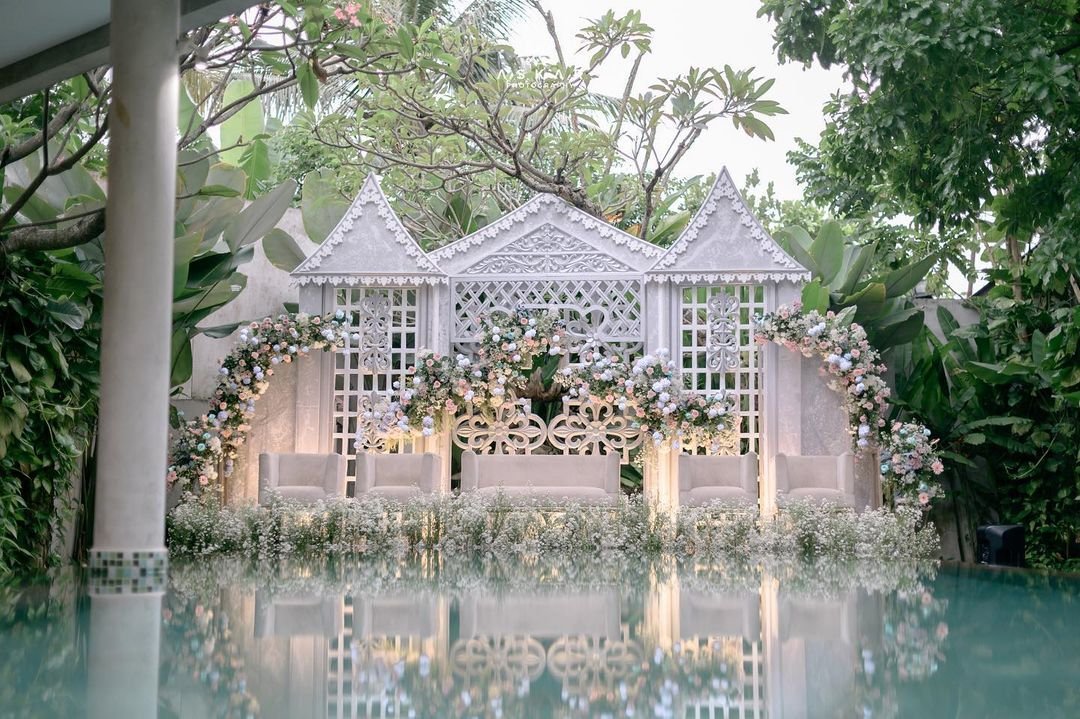 This enchanted and beautiful wedding venue is in East Jakarta. It provides both outdoor and indoor concepts. Azila Villa, which is located in the Cipayung area can certainly make the wedding moment more intimate. Some famous celebrities have even held weddings in this beautiful place.
---
THAILAND
Sri Panwa Phuket Hotel – Thailand
It sits around 60 meters above sea level, atop Cape Panwa, and simply posting a photo of the incredible views alone will turn you from zero to hero.  Their villas are insane, some with 300-degree views of the surrounding ocean, and the entire hotel encompasses a nature-meets-modernity vibe.
For your dream wedding ceremony, they have a rooftop called Baba Nest which offers 360-degree views of the Andaman Sea and Phuket island, for cocktail hour or a welcome drink upon arrival, Baba Sunset Lounge is the go-to spot, and when it comes to the reception dinner, you can count on them for an array of local and international cuisines.
What's also cool about Sir Panwa is that they have an in-house night club, Baba 88, that can hold 80 guests. So basically, from beginning to end, you're all sorted when it comes to your big day.
---
Intercontinental Samui Baan Taling Ngam Resort
This award-winning 22-acre beachfront hotel is basically the best of the best, and we love every single wedding we've photographed here. It's impossible to be anything but inspired with love and lust at the Intercontinental Samui Baan Taling Ngam Resort. They have beachside and cliffside villas with private pools, making each and every sunset unmissable, and event spaces that'll take your breath away.
Make your aisle soft white sand or luscious green grass with ocean views, say your "I do's" on their glass island infinity pool, have your ceremony on their private pier, or enjoy their Azure Lounge that has views of Five Islands. They also cater for indoor ceremonies and reception parties.
---
Bangkok Pullman King Power

Catering is one of the domineering departments for your wedding, and Pullman Bangkok culinary team is always ready to pamper and delight your guests with delicious cuisine. They also make it a priority that you get the cake you want and just the way you want it! By bringing your sweet dream to a reality, they will conduct your wedding in a manner you cannot even begin to imagine.
Holding your hand (serving you) every step of the way; Bangkok Pullman's priority is to lessen your stress from the weddings menu; your guests' well-being and, sorting out accommodations in their lavish guestrooms. Also, a spa treatment is arranged for the bride. For luxurious, modern and classical weddings rely on Pullman Hotel Bangkok to be hands-on and take care of everything.
---
SINGAPORE
Capella Singapore
Say 'I do' amidst the golden glow of the setting sun at Sentosa's premier wedding destination, Capella Singapore. With three stunning solemnisation venues, let your heart choose from Horizon's Verge sunset patio, Poolside Bliss with its cascading pools and the lush green lawns of the Garden of Dreams.
Dance the night away under the dazzling night sky seen through the glass dome of the Grand Ballroom, surrounded by up to 400 of your cherished friends and family.
capellahotels.com/en/capella-singapore/event-enquiry
---
Ahava

To the Bride: Picture yourself wearing a comfortable wedding gown, holding your bouquet with both your hands, standing by the majestic geometrical wooden door – slowly stepping on the deep royal red carpet; enticed and looking forward to holding the groom's hand and, put a ring on his finger. Imagine yourself subconsciously drawn into the venues further exploring your wedding venue. As soon as you enter up to 350 guests turn their heads to admire your beauty, as the natural sunlight glistens through the space-enhancing your beauty.
---
HONG KONG
The Repulse Bay
For those who love the sea and sand, it really doesn't get more romantic than having a wedding ceremony with the colonial heritage building of The Repulse Bay behind you and views of the South China Sea straight ahead. You can choose to have your event on the front lawn or the sea view terrace, followed by a reception at The Verandah or The Marquee.
---
Auberge Discovery Bay

This Anchorage is exclusively designed for couples who want to make a statement! If you like you can make a grand entrance with a graceful horse-drawn carriage for the timeless experience; on the day you will be taken forever into the arms of your future husband. Cherish your love in an approximately 16 meters seashore, featuring classy window – the chapel dips in-stream light, brightening the venue for any kind of wedding theme or style. Create joyful memories!