Cambodia is one of the most prominent South-East Asian countries, especially in tourism. The food, culture and traditions of Cambodia attract a lot of tourists all over the world. The place offers one of the most economical yet beautiful trips you can take in a lifetime. Be it the exotic temples or tasty Cambodian street food, there is something for everyone in beautiful cities of Phnom Penh and Siem Reap.
Lort Cha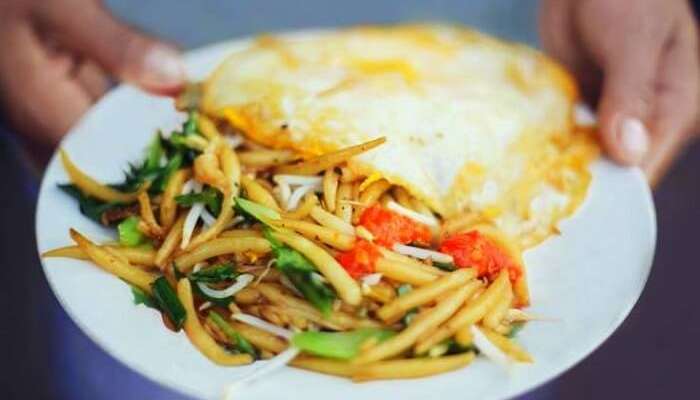 Made of fat rice noodles, this dish will remind you a bit of Indian fried chow mein. Fried with different vegetables (mainly spring onions, chives, beans), this dish then takes an unexpected turn and is mixed with beef, finally topped off with an egg. You can have it with spicy red chili chutney. This is the perfect lunch or dinner to have while roaming around the streets of Cambodia. You will find many Lort Cha vendors with their big frying pans and collection of ingredients ready to whip you a tasty plate of noodles.
Bai Sach Chrouk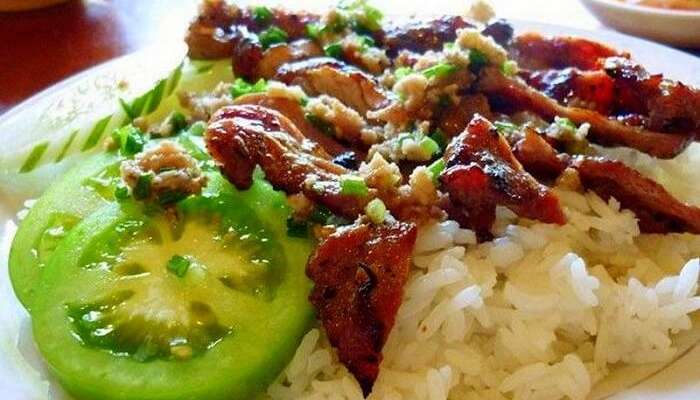 Eating street food in Cambodia is quite popular among the locals which is why this rice and pork dish is how most natives prefer to start their day. You will see women selling the dish at small barbeque stalls, with pork strips being grilled at small mesh-like structures. The rice served here is fresh, soft and smells divine. To be truthful, a meal here is better than dining at some of the restaurants. The plate of rice is topped with pork and spring onion and a sprinkle of oil (fried with garlic and onions). Top the whole dish off with egg and sides of pickled veggies and broth, and the day is made!
Balut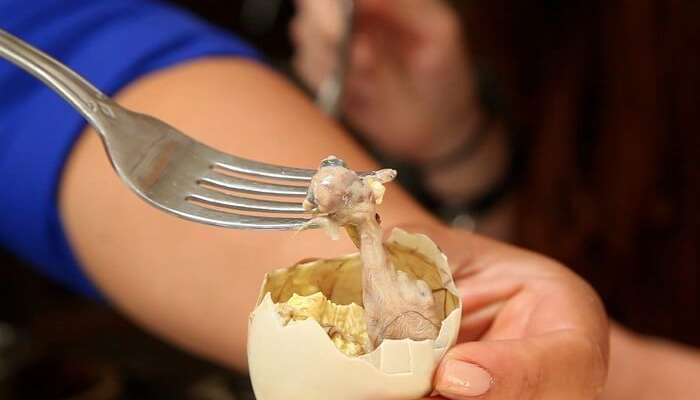 Balut or duck foetal egg is one of the most exotic delicacies of Cambodian food. The dish is a fertilized embryo (straight out of the eggshell), which the locals gorge upon. Yes, you might find the act of squishing the little thing and mixing it with rice a little squeamish, but if you are someone who loves different food and wants to enjoy the local culture, Balut is a must try for sure. It is usually eaten with generous amounts of salt and pepper along with a sprinkle of lime juice – making it taste quite tangy and tasty.
Grilled Skewers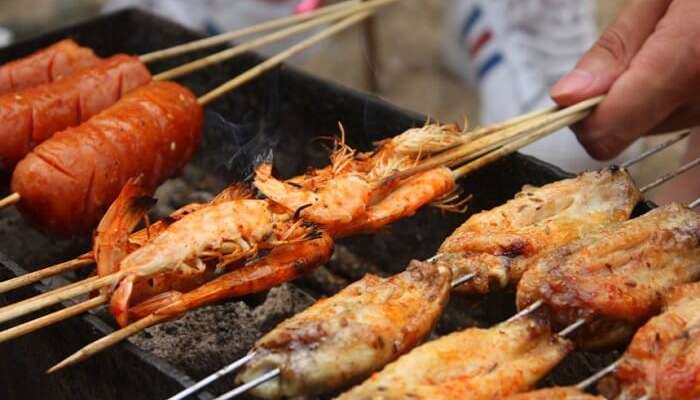 One of the least messy and most filling foods out there – any Cambodian bbq festival is incomplete without these tasty skewers. Mostly, the skewers with meat or seafood are the popular street food in Cambodia. Be ready for anything from chicken hearts to prawns, pork or quails and of course full pineapples which are quite a treat. Such meals are quite proteinous and healthy and most night markets in Cambodia will be full of stalls selling grilled skewers.
Kuy Teav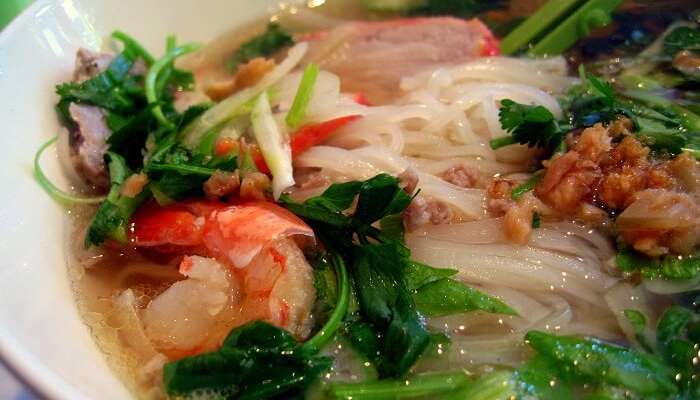 A noodle soup is something that originated in South East Asia and Cambodia is one of the best places to have the dish. Here, the soup is usually made with local greens along with rice vermicelli, scallions, and pork or chicken bones. For the adventurous, you can choose to add livers, intestines, tongue or even blood to the soup (as per your liking). The soup is quite filling, which is why you will find hordes of people lining up against the stalls in the night to have it.
Kralan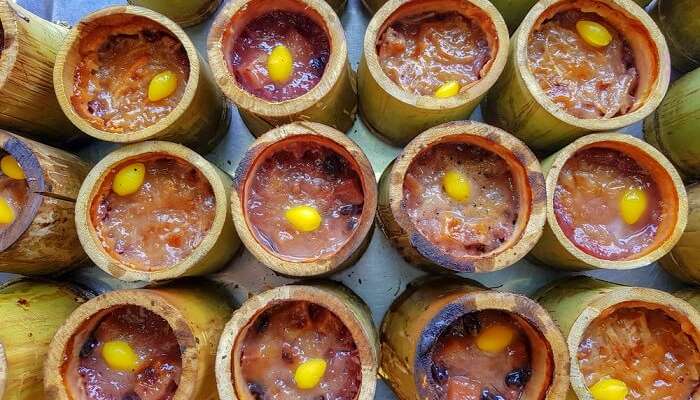 One of the lightest things on this list – Kralan is basically sticky rice filled inside a bamboo. Made of sticky rice along with black beans, the dish acquires its distinct flavor with the grated coconut and coconut milk that is added to the mix. After filling the ingredients inside a bamboo stick, it is put on a charcoal fire to roast. The smoky flavor takes the taste to another level and the distinct sweet, light but roasted taste is the right kind of treat during your evening strolls.